Utrecht Zouk - Studio Classes
Version 24th of August 2023
Starting Day
Teacher(s)
Time
Description / Level
Course
Price
February
Tue, 7 February
Lisa & Marcos
19:00‑20:15
Zouk Level 4 - Headmovements
10x1.25h
** € 160,-
Tue, 7 February
Lisa & Marcos
20:30‑22:00
Zouk Advanced Training
10x1.5h
** € 180,-
Fri, 10 February
Lisa, Steven, & Xanne
19:00‑20:00
Zouk Level 1
8x1h
** € 110,-
Fri, 10 February
Lisa, Steven, & Xanne
20:00‑21:00
Zouk Level 2
8x1h
** € 110,-
Fri, 10 February
Lisa, Steven, & Xanne
21:00‑22:00
Zouk Level 3
8x1h
** € 110,-
April
Tue, 25 April
Lisa & Marcos
19:00‑20:00
Zouk Level 4 - Headmovements
10x1h
** € 135,-
Tue, 25 April
Lisa & Marcos
20:15‑21:15
Zouk Level 5 - Advanced Lab
10x1h
** € 135,-
Tue, 25 April
Lisa & Marcos
21:30‑22:30
Lambada - Open level
10x1h
** € 135,-
May
Fri, 12 May
Lisa, Steven, & Xanne
19:00‑20:00
Zouk level 1
8x1h
** € 110,-
Fri, 12 May
Lisa, Steven, & Xanne
20:15‑21:15
Zouk level 2 - Footwork Fundamentals
8x1h
** € 110,-
Fri, 12 May
Lisa, Steven, & Xanne
21:30‑22:30
Zouk level 3 - Undulations & Isolations
8x1h
** € 110,-
July
Tue, 11 July
Lisa, Steven, & Xanne
19:00‑20:00
Zouk level 2-3 - Summer Classes
8x1h
** € 110,-
Tue, 11 July
Lisa, Steven, & Xanne
20:15‑21:15
Zouk Choreo - Flashmob Training
8x1h
** € 110,-
Tue, 11 July
Lisa, Steven, & Xanne
21:30‑22:30
Zouk level 4-5 - Summer Classes
8x1h
** € 110,-
Fri, 7 July
Lisa & Ilse
19:30‑22:00
Followers Workshop - Technique & Style
1x2.5h
* € 35,-
Fri, 21 July
Lisa & Marcos
19:30‑22:00
Zouk Workshop - BaddAss Basics
1x2.5h
* € 35,-
August
Fri, 18 August
Lisa & Marcos
19:00‑22:00
Zouk Workshop - Headmovement (Open level)
1x3h
* € 40,-
September
Sat, 2 September ***
Sheila dos Santos, Lisa, Ilse, & Marcos
13:30‑18:00
Unlock Musicality // Automony // Creativity in Zouk
1x4u
** € 60,-
Tue, 19 September
Lisa, & TBD
19:30‑22:00
Level 1 - Introduction Workshop
1x2.5u
* € 30,-
Tue, 26 September
Lisa, & Marcos
19:00‑20:00
Level 4 - Headmovements
10x1u
** € 135,-
Tue, 26 September
Lisa, & Marcos
20:15‑21:15
Level 5 - Advanced Lab
10x1u
** € 135,-
Tue, 26 September
Lisa, & Marcos
21:30‑22:30
Lambada - Open Level
10x1u
** € 135,-
Fri, 29 September
Lisa, Steven, & Xanne
19:00‑20:00
Zouk Level 1 - Beginners
10x1u
** € 135,-
Fri, 29 September
Lisa, Steven, & Xanne
20:15‑21:15
Zouk Level 2 - Fundamentals
10x1u
** € 135,-
Fri, 29 September
Lisa, Steven, & Xanne
21:30‑22:30
Zouk Level 3 - Undulations & Isolations
10x1u
** € 135,-
Early Bird discounts; Pay 8 days before classes start to get:
* € 5,- off!
** € 10,- off!
We teach at the following locations:
Beyaertdreef 3, 3562 LG Utrecht Salsaventura - Utrecht ***
We hope to see you there soon! Register using the link below.
✓ Register for classes at Theaterhuis de Berenkuil.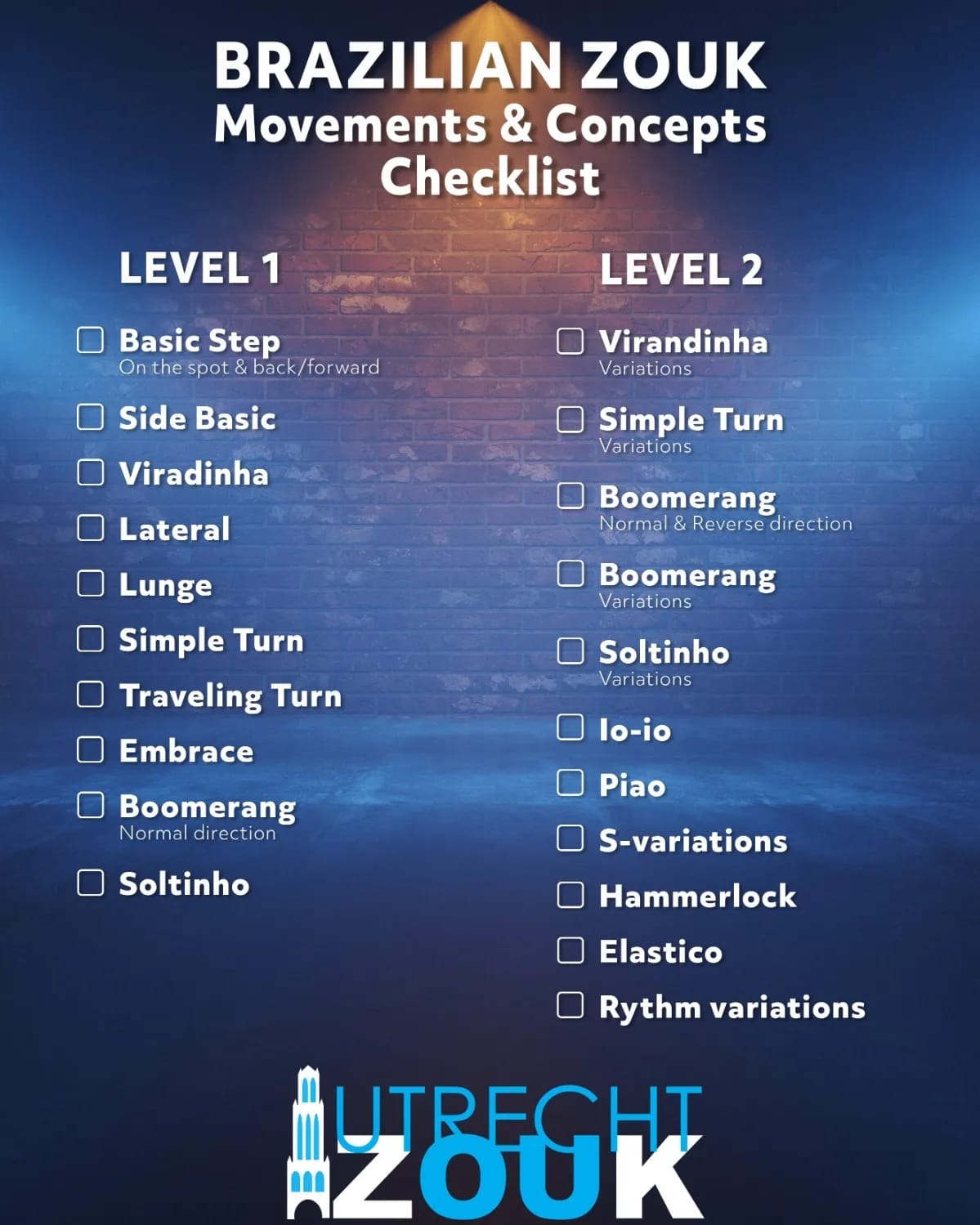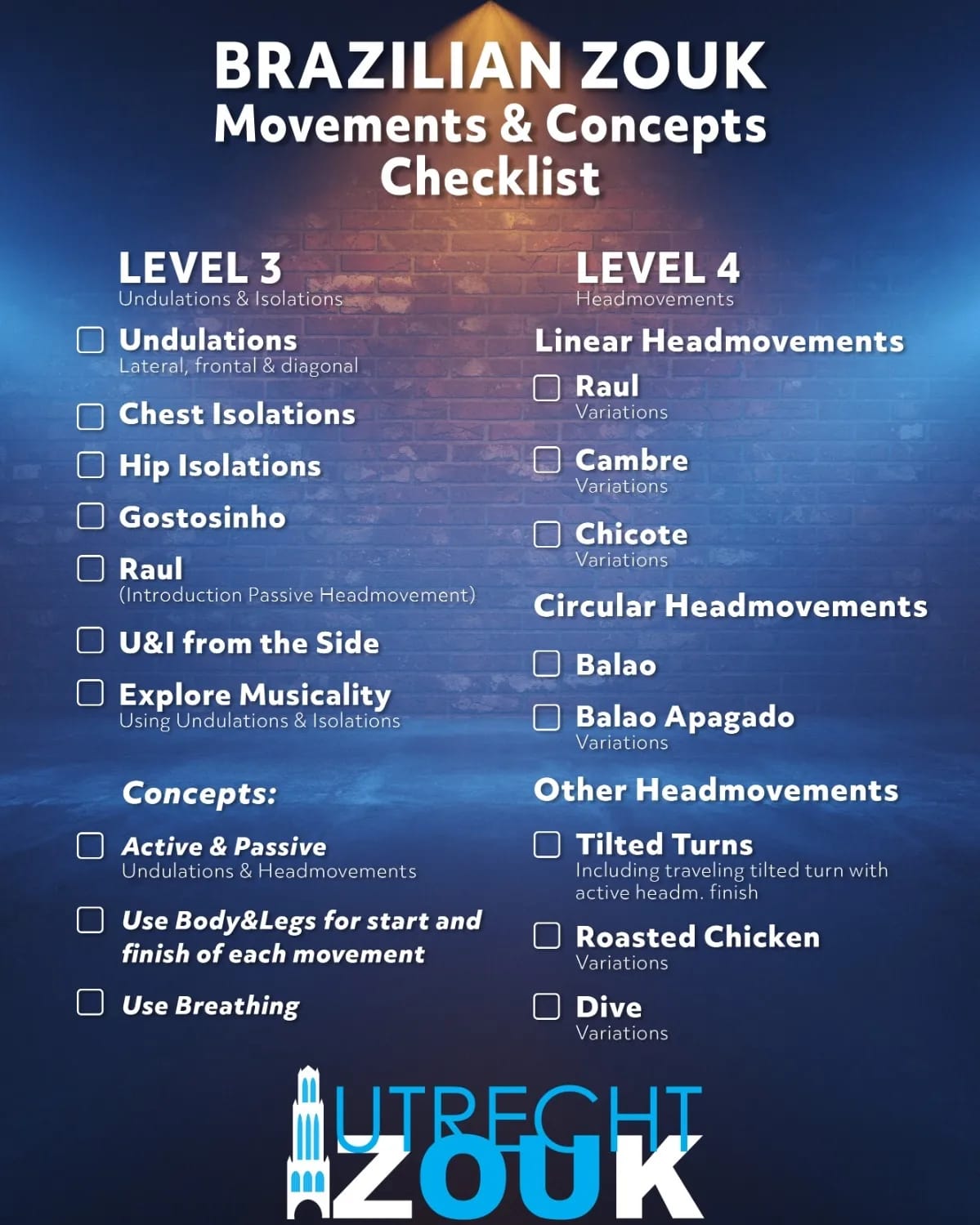 We are organising our dance classes in accordance with the following guidelines, terms & conditions. We count on everyone to help keep Utrecht Zouk a safe space to enjoy Brazilian Zouk.
Stay home if you have any symptoms/don't feel well (and get tested)!
Be mindful of hygiene. Wash or disinfect your hands on arrival at the studio and on departure, bring your own water bottle, cough and sneeze in your elbow, etc.
Come to class either with a fixed partner or change partners in the group. We encourage rotating partners to help speed up your learning process.
Only come to a dance class when you are registered and have paid.
We have a "no money back" policy. if you miss one lesson, you can recover it on another day.
A try-out is ony possible in agreement with Lisa van der Plaats - only when agreed upon can it be free of charge
It is possible to do a drop-in into our Brazilian Zouk classes, in agreement with Lisa van der Plaats